HAYDN TOMLINSON
pic(s):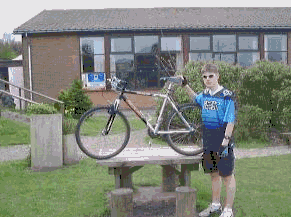 how did he get from that to that I will never know! and remember that it is him standing the first one.
Name: Um doesn't it say it above?
nick name:The Bob. (dose your bike bob then) no its a hard tail!
age: 16.
marital situation: Just too single not even a paper clip will attach to me and I don't 'ave any SPuD's!
DOB: Some time long time ago when brave knights battled against rob Warner and hippy dragons!
place of birth: Bolton in a hospital (never I was born in one too).
say something cool: Can't think of something on the spot (dopey little boy)
say it Ali G: Me hangin' on me bike bu yaka sha. (U Wot?)
best move: Big dwop off's! and pulling it off with Helen
bike: 2k giant bouldershock with some RST's on
Fav place to ride: Sandy tracks. (what are your shoes full of at the end)
Fav band: Oasis/The Verve/Richard Ashcroft (any more before we finish this question?)
Fav song: "Carry us all" (be side to Sunday morning call).
What can you do that is cool: I can dislocate my finger on demand with out pulling it with my fingers.
any strange abnormal features: I have a strange magnetism to the ground when I ride mi bike (in other words I fall off!).
Fav female rider pin up: Helen Mortemer.
Fav rider: Steve Peat.
Fav female pin up: Sara Cox (cor blimey).
Stupidest Rider Award Should Go To: Rob Warner for been a cave man/any fro rider e.g. Bert Tippe.
fave saying: Live fast die young.
Hi I'm Haydn. i had no part in creating this page. I just provided the pictures, so i'm pretty important! sorry about some of Danny's dodgy humour, he can't help being slightly insane. His crash (mentioned somewhere on this site) has left him mentally scarred (and the kerb dented!) I hope you like viewing this page as much as I enjoyed providing it's material. keep looking out for new stuff, updates happen regularly in the strange, upturned and insanely mental life of extremist-racing!
haydn tomlinson
PS i'm single so any girls reading this can email me on twangy27@hotmail.com.
Bobs bike: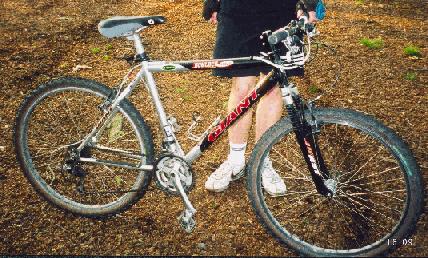 e-mail him and say hi to bob